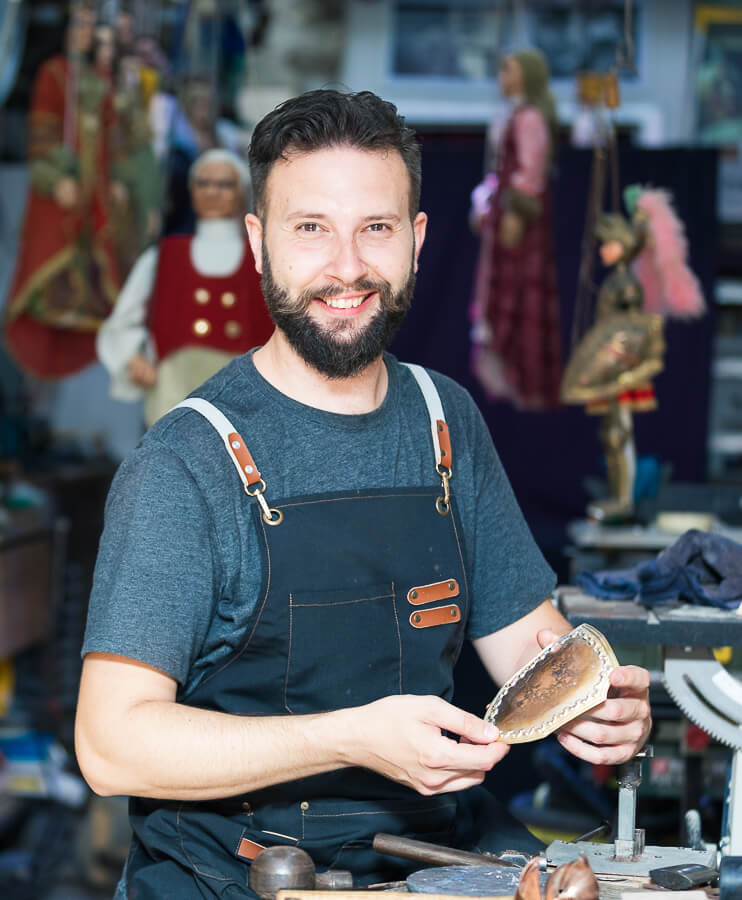 « A fairy tale of papier-mâché »
Award of excellence to the puppeteer Daniel Mauceri from Michelangelo Foundation
The Opera dei Pupi over time does not cease to fascinate. The ancient Sicilian art, already recognized as Intangible Heritage of Humanity by UNESCO in 2008, continues to fascinate the hearts of Sicilians and to attract the attention of art experts at an international level.
Daniel Mauceri, the Master Puppeteer of Syracuse and president of the new association "Opera dei Pupi Vaccaro Mauceri", is the Sicilian artist to have been chosen by the Michelangelo Foundation for Creativity and Craftsmanship to represent the Opera dei Pupi among the craftsmanship excellence in Europe.
From today, therefore, the ancient Sicilian art, with its peculiarities of Syracuse, such as the working of papier-mâché in its case, will be included in the Homo Faber Guide, which collects and traces for each country the names of the artisans and the places where they still the traditional creative forms that resist the speed of time thanks to their ability to reinterpret themselves. "I am happy and proud to be able to represent the Sicilian puppet tradition in the Homo Faber selection. I will always strive so that from here the paladins of the puppet opera can arrive everywhere", declares the artist.
The Foundation
The Michelangelo Foundation is an international non-profit organization whose mission is to enhance and preserve the art professions by strengthening their ties to the world of design. It supports the exceptional masters of art who, throughout Europe, make the best use of this talent and who, using ancient traditions, knowledge and skills, create objects that maintain their value over time. Each of the chosen masters of art represents excellence in their respective fields and the selection is made through the criteria identified by the group of researcherswho identified the concepts that underlie the crafts of art: authenticity, expertise, craftsmanship, creativity, innovation, interpretation, originality and talent. The selected artists are represented by a Cultural Council, which is entrusted with monitoring the quality level of their works.
For more info: www.michelangelofoundation.org
Daniel Mauceri
Master puppeteer for three generations, he makes his Sicilian puppets in the laboratory of Via della Giudecca 17 in the island of Ortigia, Syracuse. From the art pupara and the technique of working in papier-mâché inherited from his grandfather, Alfredo Vaccaro, has expanded the scope of his creations to jewelry and sacred statues. His creations have come from Ortigia all over the world.