ART IN THE HANDS OF THE PUPPETEER
DANIEL MAUCERI
PUPPETEER AND ARTISAN BUILDER OF SICILIAN PUPPETS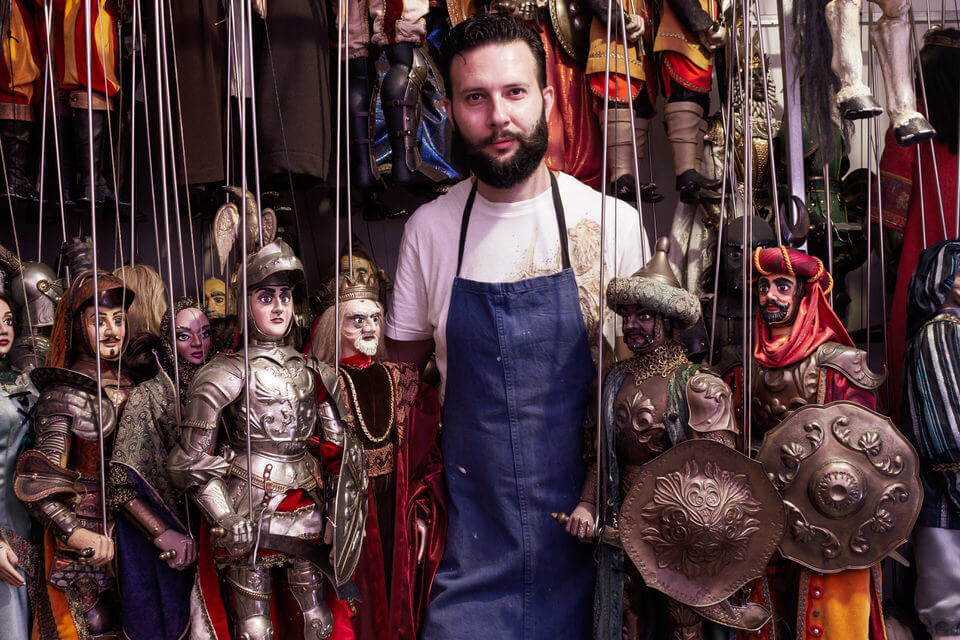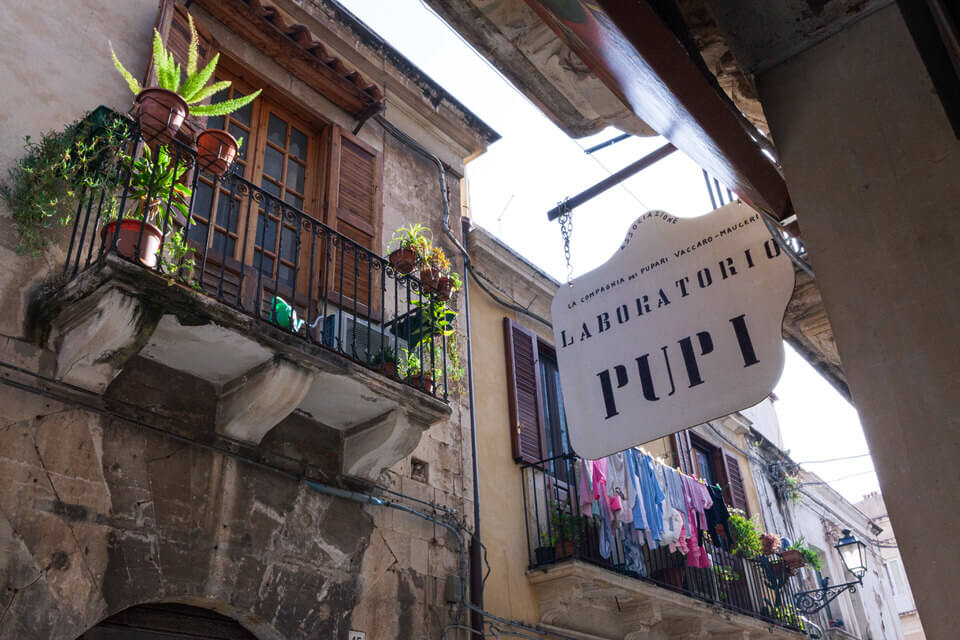 My name is Daniel and I am a Puparo, an artisan constructor of Sicilian puppets. For over 40 years my family  has been involved in keeping alive the tradition of the Opera dei Pupi in Syracuse. I grew up breathing in the smell of wood, getting my hands dirty with paint and punctuating my afternoons after school with the sound of my grandfather Alfredo Vaccaro's tools.
PUPPETEER
FROM MATTER TO FORM
From Ortigia, Daniel Mauceri's puppets have reached numerous cities around the world, bringing prestige craftsmanship from Sicily to Europe, America and Asia. In Daniel Mauceri's workshop in Ortigia, designer jewellery such as necklaces, bracelets and parures are created using refined metalwork based on medieval and chivalrous forms. The same hands shape papier-mâché for making sacred statues.
Ancient techniques handed down over 200 years of history make Sicilian puppets not just legendary characters from traditional theatre, but a true work of art. A puppet can become a piece of furniture to be displayed and which the customer can customise according to his or her own taste. The choices vary from the type of character, facial characteristics, colour of the robes, the colour of the metal (copper, brass or nickel silver) used to make the armour, the mirror polished or burnished finish. An expert will guide you towards the right choice of the character that best meets your wishes.
Sacred statues have always been an indispensable element of our faith. The sacred work of art is an instrument of conjunction between the human and the divine, from creation to prayer. In every era, statues of fine workmanship have further enriched ecclesiastical settings and the atmosphere of patronal festivals, becoming the face of a community of believers who recognise their identity in the religious symbol. Today, as in the past, the statues continue their iconographic functionby being placed in all places of worship, in private outdoor spaces and in homes, depending on the most suitable size.
The statues made in the Mauceri workshop represent an evolution in the techniques of religious sculpture. The new generation of papier-mâché makes the statue both light and strong (weighing between 30 and 40 kg). In addition, a long process consisting of several working steps makes the paper mixture fine and mouldable to the point where detail is brought to the highest level. The statue holds its pose and resists shocks thanks to an internal iron skeleton capable of absorbing oscillations and jolts during transport (e.g. processions). A polystyrene padding surrounds the iron skeleton and then a careful sculpting operation fixes the shape of the statue. The last step is to model the papier-mâché on the result obtained until the work is complete. Thanks to an effective chemical coating, the statue tolerates even the most humid environments.
=> Beato Fra Andrea Xueres
=> Cristo Risorto
HANDICRAFT MANUFACTURER
LATEST CREATIONS